"Let's aim to the top!"

This article is a stub. You can help to Show by Rock Wiki by expanding it.
Bud Virgin Logic
BUD VIRGIN LOGIC
Bado Bājin Rojikku
Statistics
Type
Band
Status
Active
Bud Virgin Logic (BUD VIRGIN LOGIC, Bado Bājin Rojikku?) is one of the bands in the SB69 game. They became rivals for Plasmagica in Season 2, with Dagger Morse as their manager.
Background
Edit
Composed by three girls, this band mysteriously appears in MIDICITY with melodies as sharp as a knife, delicate vocals as transparent as glass, and a synchronized heavy guitar.¹
Both Peipein and Hundreko serve Aireen as her servants.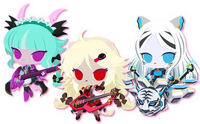 Ad blocker interference detected!
Wikia is a free-to-use site that makes money from advertising. We have a modified experience for viewers using ad blockers

Wikia is not accessible if you've made further modifications. Remove the custom ad blocker rule(s) and the page will load as expected.