Mamoru Miyano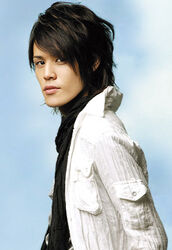 Given name: 真守
Family name: 宮野
Birthday: Jun 8
Hometown: Saitama, Japan
Hobbies: singing, soccer, playing the harmonica and harp
Mamoru Miyano is a voice actor, actor, and singer from the Saitama Prefecture. He is the voice of Shuu Zou from Trichonika.
Miyano began his career as a musician in 2007. He is affliated in King Records and MASTERSIX FOUNDATION. Miyano started his acting career in 1990 and provides the voice of Riku in the Japanese version of the PlayStation 2 video game Kingdom Hearts. He then voiced Kiba, the main character of anime series Wolf's Rain. He returned as the voice for Riku in the 2004 Game Boy Advance game Kingdom Hearts: Chain of Memories, as well as Kingdom Hearts II in 2005, and in Kingdom Hearts Re:Chain of Memories in 2007. His first acting job was in 1992 in Tokusou Exceedraft, where he appeared in a flashback as a child in a yakuza member's past.
At the 2007 Seiyu Awards he was nominated for two awards for his role as Light Yagami in Death Note, and in 2008, he won the "Best Voice Actor" award at the 2008 Tokyo International Anime Fair. At the 2008 Seiyu Awards, Miyano won "Best Lead Actor Award" for his role as Setsuna F Seiei in Mobile Suit Gundam 00, and as Hakugen Rikuson in Kōtetsu Sangokushi. He made his film debut in 2006's The Prince of Tennis.
Miyano married in late 2008 (December 1), he and his wife have a son together.
Other Notable Voices:
Riku - Kingdom Hearts
Kiba - Wolf's Rain
Light Yagami - Death Note
 Setsuna F Seiei -  Mobile Suit Gundam 00
Hakugen Rikuson - Kōtetsu Sangokushi
Zero Kiryu - Vampire Night
Death the Kid - Soul Eater
Tamaki Suoh - Ouran High School Host Club
Okabe Rintarō - Steins;Gate
Ling Yao - Fullmetal Alchemist Brotherhood
Oda Nobunaga - Nobunaga the Fool
Ultraman Zero -  Mega Monster Battle: Ultra Galaxy Legend The Movie
Dent - Pokemon
Joker - Kuroshitsuji
Ichinose Tokiya - Uta no☆Prince-sama♪
Rin Matsuoka - Free! Iwatobi Swim Club

Web Diary: http://miyanomamoru.com/
Ad blocker interference detected!
Wikia is a free-to-use site that makes money from advertising. We have a modified experience for viewers using ad blockers

Wikia is not accessible if you've made further modifications. Remove the custom ad blocker rule(s) and the page will load as expected.