Ohsaka Ryota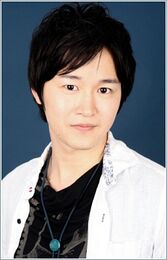 Given name: 良太
Family name: 逢坂
Birthday: Aug 2
Birth place: Tokushima Prefecture, Japan
Hobbies: Softball, Bowling, Walking, Games
Ohsaka Ryota is the voice of Kai from Trichronika. He is affiliated with Early Wing.
Other Notable Voices:
Kiri Katou - Sket Dance
Carmen, Sphintus - Magi: The Kingdom of Magic
Kanzai - Hunter x Hunter
Lucifer, Vali - Highschool DxD
Okikura Kakeru - Glasslip
Tokushima, Haruto - Kakumeiki, Valvrave
Tachibana, Sugane - Gatchaman Crowds
Shouryuu - Log Horizon
Yaze Motoki - Strike the Blood

Website: http://www.earlywing.co.jp/talent/osakaryota/
Ad blocker interference detected!
Wikia is a free-to-use site that makes money from advertising. We have a modified experience for viewers using ad blockers

Wikia is not accessible if you've made further modifications. Remove the custom ad blocker rule(s) and the page will load as expected.