Shingan Crimsonz
シンガンクリムゾンズ
Shingankurimuzonzu
Statistics
Leader
Crow
Agency
Banded Rocking Records
Type
Band
Status
Active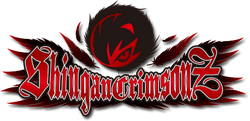 Shingancrimsonz (シンガンクリムゾンズ, Shingankurimuzonzu?) is one of the main band in this series. This band is composed of four boys. Like Plasmagica, they are also contracted to Banded Rocking Records. The leader of the band is Crow, though Rom also has some authority especially when it comes to organizing the group.
Background
Edit
Same with Plasmagica, Shingan Crimsonz is also contracted in the agency called Banded Rocking Records and aiming to be the best band of the Midi City.