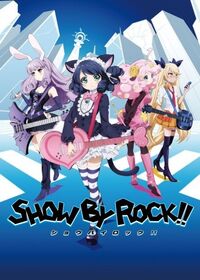 Show By Rock!! (ショウ・バイ・ロック!!, Shō Bai Rokku!!?) is an anime adaption produced by Bones of its original rhythm game developed by Geechs and Sanrio. It started airing on on April 5, 2015.
The anime is set in Tokyo Midi city, a place where those who command music control everything and where it's inhabitants called Mumons form bands to play music and compete with other bands to be on top. One of the inhabitants of the city is Cyan, a white Gothic Lolita cat girl who dreams of becoming a musician one day and creating the best music band in the city.
One day, she is scouted by Maple Arisugawa, the president of a music agency and invites her to the company. From there she meets ChuChu, a purple honor student rabbit girl, Retoree, a yellow net geek dog girl and Moa, a pink and black cosmic sheep girl. Together they all form a band called Plasmagica as they all tackle and perform together in the music scene while aiming to be the best music band of all Midi City while discovering the secrets surrounding the Legendary Instruments .
Characters
Edit
Original Concept: Sanrio
Director: Takahiro Ikezoe
Series Composition: Touko Machida
Character Design: Masaru Ohishi
Supporting Character and Props Design: Ryou Hirata
Sound Director: Masafumi Mima
Sound Effects: Shizuo Kurahashi
Head Animator: Tomokatsu Nagasaku
Color Scheme: Fusako Nakao
Art Design: Naomi Ogura
Art Director: Hatsumi Kumano
Director of Photography: Tsuyoshi Kanbayashi
CG Design: Studio Goonies
CG Director: Ryou Sasaki
Editing: Kumiko Sakamoto
Music:

Yasuharu Takanashi
Funta7
Rega Sound

Music Production: Pony Canyon
Ad blocker interference detected!
Wikia is a free-to-use site that makes money from advertising. We have a modified experience for viewers using ad blockers

Wikia is not accessible if you've made further modifications. Remove the custom ad blocker rule(s) and the page will load as expected.