"Tokiko's R-R-Room" is an interview show introduced by Tokiko Shirosugawa in Show by Rock!! Short!!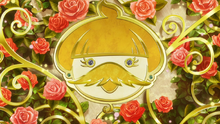 Guest Appearances
Edit
The show is a reference to "Tetsuko's Room", a long-running and well respected Japanese talk show hosted by Tetsuko Kuroyanagi. "Tetsuko's Room" holds the Guinness World Record for the most TV talk show episodes hosted by the same presenter with over 10,000+ episodes.
Ad blocker interference detected!
Wikia is a free-to-use site that makes money from advertising. We have a modified experience for viewers using ad blockers

Wikia is not accessible if you've made further modifications. Remove the custom ad blocker rule(s) and the page will load as expected.