Hosoya Yoshimasa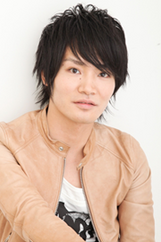 Given name: 佳正
Family name: 細谷
Birthday: Feb 10
Hometown: Hiroshima, Japan
Hobbies: Shooting (gun)
Hosoya Yoshimasa is the voice of Rom from Shingan Crimsonz.
He is affiliated with Mausu Promotion. He is also a member of the pop duo MaxBoys along with Toshiki Masuda (増田 俊樹), a fellow Japanese voice actor.
Other Notable Voices:
Asahina, Yuusuke - Brothers Conflict
Wataya, Arata - Chihayafuru
Juuzawa, Juu - Denpa Teki na Kanojo
Yamazaki, Sousuke - Free! Eternal Summer
Furuya, Ouzou - Ginga e Kickoff!!
Azumane, Asahi - Haikyuu!!
Michael - Highschool DxD BorN
Arisu Ryouhei - Imawa no Kuni no Alice
Kurosaki, Ryuunosuke - Kaichou wa Maid-sama!
Hyuuga, Junpei - Kuroko no Basket
Kigiri - Naruto Shippuden
Shiraishi, Kuranosuke - Prince of Tennis
Nezumi - No. 6
Akatsuki, Kojou - Strike the Blood

Web Diary: http://www.yoshimasa-hosoya.com/
Ad blocker interference detected!
Wikia is a free-to-use site that makes money from advertising. We have a modified experience for viewers using ad blockers

Wikia is not accessible if you've made further modifications. Remove the custom ad blocker rule(s) and the page will load as expected.